AMT Motorsports C5/C6 Monoball Bushing Kit (w/Service)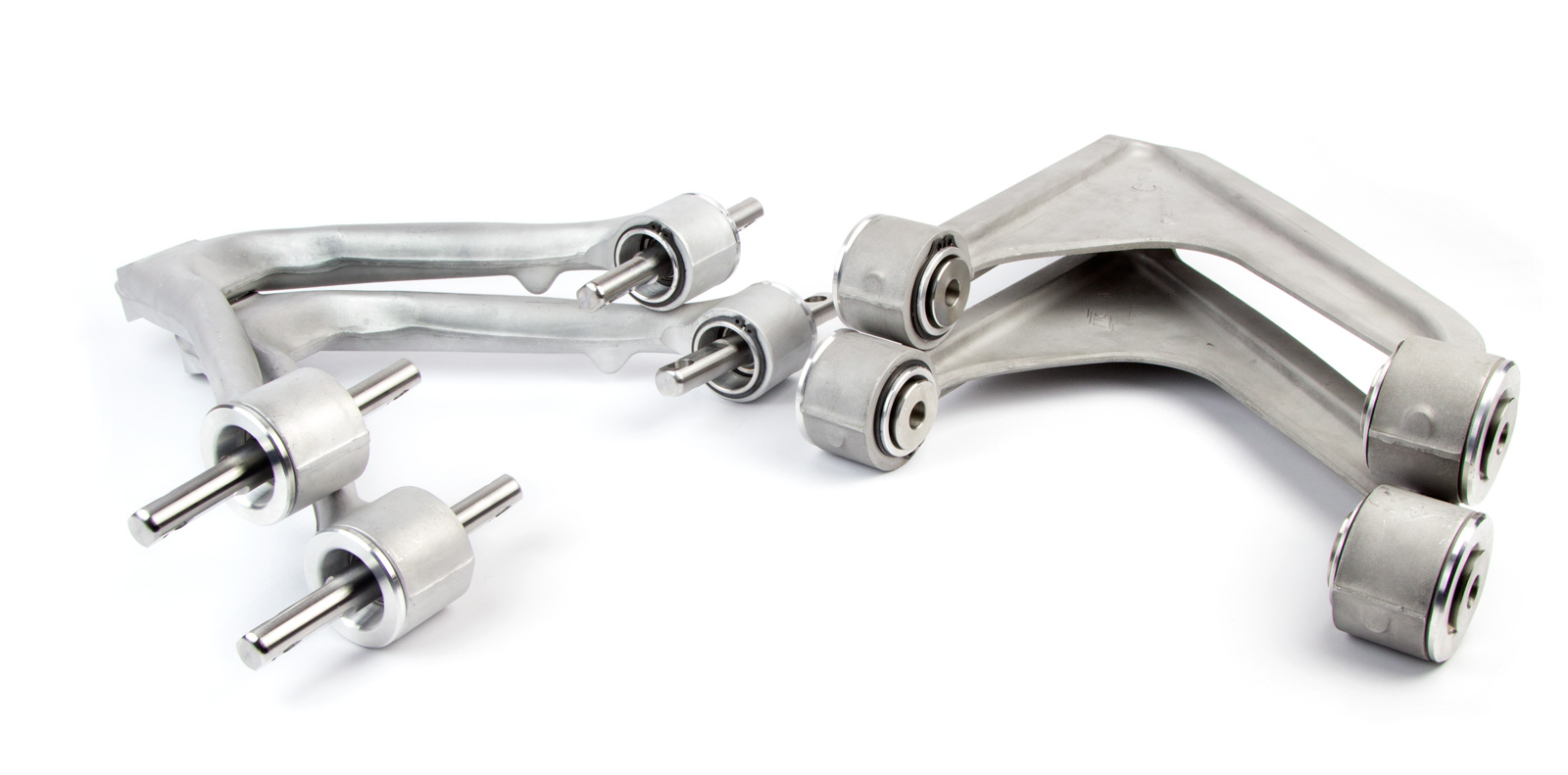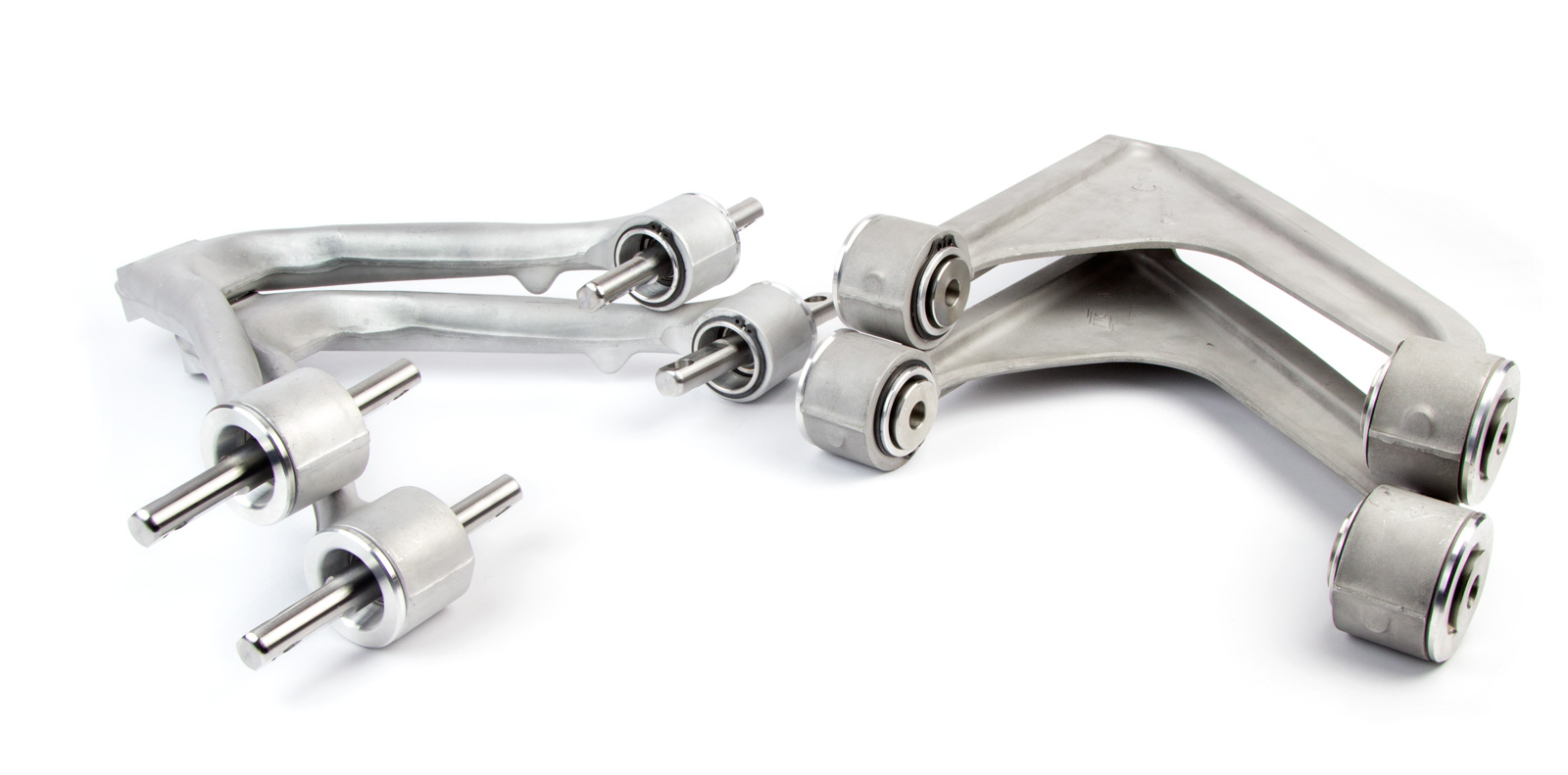 AMT Motorsports C5/C6 Monoball Bushing Kit (w/Service)
AMT Motorsport is proud to introduce our Monoball Control Arm Bushing kit for C5 and C6 Corvettes (non-Z06/ZR1). This kit replaces the stock rubber bushings in all 16 locations of your control arms with precision-machined aluminum housings, stainless steel ears, and the best spherical bearings in the business - the Radial RWT-10.
 
If you're searching for the elusive "go-kart" handling characteristics for your race car, spherical bearings are perhaps the first suspension upgrade you should consider. The factory rubber bushings are extremely gushy in order to reduce noise, vibration, and harshness from a street car. They also cost almost nothing to produce and to install. Factory rubber bushings are more than adequate for 99% of cars that live their lives on the street. However they "numb" the driver from feeling the track. The soft rubber dulls every movement of the suspension and turn of the steering wheel. The rubber deteriorates over time and on a serious track car will start to extrude itself from the control arms. This will destroy your alignment and your tires in a matter of minutes on track.

Spherical bearings eliminate all of the shortcomings of rubber on a track-focused vehicle. The car will feel razor sharp on the track as the car will react immediately to your driving inputs. The car no longer has to wait for the stock rubber to compress while changing direction. Tires last longer and perform better with proper alignment settings since the camber value does not change due to deflection of rubber bushings. The trade off for all the increased performance of spherical bearings is of course cost and harshness. You will feel every surface imperfection in the track, which means you will feel every pothole and frost heave on the street. Good shocks will smooth out some harshness on the street, but this is not a modification we recommend for a street-only car. Some people love having spherical bearings on their commuter car, but it's not something that we at AMT would enjoy.
 
The price of this kit includes all service of your control arms. All you need to do is remove your control arms and send them to AMT Motorsport. They'll press out all your rotten old bushings. They'll glass bead blast all the rubber, oil, grease, and grime from your control arms so they look brand new. They'll re-machine every bore in your factory control arms with custom boring fixtures and boring heads, ensuring that your kit is installed with perfect accuracy. Bearing housings are machined from 6061-T6 aluminum. The ears are made from 303SS and the upper control arm trunions are made from hardened 17-4PH stainless steel. All of these parts are machined to within a .0005" tolerance to ensure that everything fits together perfectly and performs with rock solid precision. Price includes shipping to and from your location. Turnaround time from the time we receive your control arms is about 2 weeks.
 
Guarantee - All machined parts are guaranteed for as long as you own the vehicle. Bearings are guaranteed for 5 years for the original owner.